If you're in business, you may have heard lately that you should be doing "Social Media"… "Web Two Point OH". You should have a YouTube Channel. You should start a viral video. You should write a blog.
Um, why exactly?
I'm sure when you're already working 14 or 16 hours a day on your day to day business operation, the last thing you want to do is sit down at the computer and add more to your task list. If your business is small or local – you own or manage a coffee shop or have a small fitness studio or an urban retail store – you're already trying to do a lot with a little. Besides, the web is for big business right?
Wrong. It's for everyone.
Here's the thing: There is so much information online already, that you stand to gain a wealth of insight from it. And many of those people putting in their two cents are your customers… they may just not know it yet.
Here are a few super simple tactics that can help you use some of today's web-based tools to tap into that information, streamline tasks and grow your business. I've broken them down into 3 categories: Listening, Building Relationships, and Home Base.
Listening
Google Alerts
Google Alerts allow you to track what's happening in your industry by allowing you to conduct a search for keywords or phrases of your choosing and then sending you every article written about them in real time. You can search for your company name, your competitors' names and industry keywords or prases. You can have the results sent to your email or to an RSS feed (more about these later).
Here's the super simple way you set up a Google Alert:
Go to google.com/alerts
Enter your first search term (your company  name, likely) in the text field
Select "Comprehensive" – this will look for news, websites, blogs, video, and even some forums
Select how often you want to receive them (if you're sending to your email, once a day may suffice)
Enter your email address and click "Create Alert"
It's as simple as that. Google will send you an email with what looks like search results, only everything in the list will include the keywords or prases you requested.
If you want to receive alerts for multiple keywords or phrases, I recommend creating a Google account (you may even have one already if you have a Gmail account, Google Analytics account, Blogger account etc.) and creating a more comprehensive alerts system. But a simple email alert for your company name is a great start.
Twitter Search
You've probably heard the word Twitter. Twitter is all abuzz in the tech/marketing world but it has yet to reach the mainstream. Having said that, the people on Twitter are almost exclusively bloggers and influencers by the very nature of their extensive social networking.
Knowing what these influencers are talking about and finding a few in your industry or location is never a bad idea.
If you don't want to sign up to Twitter, that's fine. It can be a life suck anyway – if you joined Facebook you know how much time that can take up if you're not careful. But you should use the Twitter Search function. And just like setting up a Google Alert, it's super simple.
Go to search.twitter.com and enter a keyword. Now, keep in mind, people using Twitter only have 140 characters to talk to one another. The keywords will pick up exact words they are including in their 'tweets'. What you'll get in the results is a list of statements from people using Twitter to communicate. A quick browse will give you an idea of what people are saying about your business or industry.
Building Relationships
You need to make sure you have an ongoing relationship with your customers. It doesn't matter what business you're in, encouraging repeat business takes less effort than acquiring new business. Repeat customers are the ones who become your advocates. Repeat customers keep your business open. Sometimes all it takes is a friendly conversation… in person or online.
To build and grow that relationship, find a way to connect with your customers – either via email or mobile messages – and then offer them information that's relevant to them in the way they want.
Side note: I believe marketing can help people to improve their lives via your product. I don't believe in selling people something they don't want. I don't believe in shoving information down peoples' throats. What I do believe in, is providing relevant information via relevant media that simply show people how they can benefit from a product or service.
Email Marketing
While email marketing in general seems to be on a decline because of the prevalence of other communication methods, it's still the most comprehensive way to share information with people who want that information. Blogs with an RSS subscription present another way to share that in-depth type of information with your customers.
You can use a simple tool like Vertical Response to collect and store contact information. You can create different lists based on whatever attributes you like – types of purchases, gender, age category – and then send them updates that are relevant to them: new product lines, special events, sales. Vertical Response has a huge set of pre-made email templates to choose from, they send in both HTML (with pretty pictures and stuff) and text so no matter what type of email your customers receive, your message will be intact. And, you only have to pay for what you use – there's no monthly fee. You can also use it to conduct surveys or, if you collect full contact information, you can even use it to send direct mail postcards.
The cost starts at just $0.015 per email you send e.g. if you have a list of 1000 addresses, the whole email will cost you only $15. If your list is larger, the cost per message goes down from there. Or, you can pay a monthly fee based on the size of your email list and send as often as you'd like – currently for up to 2,000 addresses in your list it would cost you $28/month.
Tagga Mobile Marketing
Tagga is a really innovative new tool that allows anyone to use SMS or Text Messaging for any reason they like. You could create a tagg (or an SMS message) that people can text in to receive. You change it whenever you'd like and let people know they can text KEYWORD (whatever you choose, provided it's not already taken) to 82442 (TAGGA) and they receive your message to their mobile phone. Alternatively, you can set up a subscription where people text in the keyword to 82442 to subscribe. You then send out a message to your subscribers.
You can pay for service and use the full 120 character text message for yourself – the cost is about USD$0.20 per message – or you can opt to send your messages using only 80 characters and pay nothing; a sponsored message (using the remaining 60 characters) at the end of the text will cover the cost. Note: it is really hard to squeeze a message into 80 characters, but at only $0.20/message with no month to month cost, it's a great way for a small company to get in on mobile marketing.
Where mobile is really effective is last second deals to improve upon low yield times/days.
You own a bakery? Blow out the end of day inventory at a discount – send a message at 4pm that says "Get 25% off today's baked goods at XYZ Bakery before 5pm today" (that's only 62 characters, incidentally). Empty coffee shop? Send a message saying "Large coffee for the price of a small at Tasty Coffee Company; today only."
Your Home Base
WordPress.com
I know, I know… I said earlier you don't need to blog. And you don't. BUT, if you don't have a web presence at all, WordPress.com is a quick and easy – and FREE – way to create one. Just sign up for an account at wordpress.com for free. Then, select from a number of visual themes, upgrade to a custom URL (it's only $15), purchase your preferred URL from a domain name provider (I like Namespro.ca) and redirect your 'site' to your custom URL.
You can use wordpress.com as a free web content management system by using the 'Pages' functionality to create all the pages your website may need (see above where it says "About Michelle"? That's a page – if I add more they'll make a line across the top). You can then go into the settings and redirect your home page to one of the pages you've created and you don't actually need to blog at all… unless you want to.
RSS Feed Reader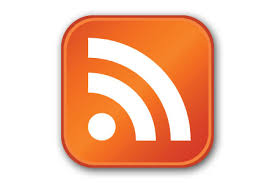 The last thing I want to mention is using RSS to keep track of everything. Almost everything is accessible with RSS nowadays. RSS allows you to take the content of blogs, media sites, twitter, google searches, and any RSS enabled website and aggregate that information in one place.
I use Google Reader. When you find an RSS link – like the one at the top of this page that says "Subscribe in a reader" – you can click the link and add it to your Google Reader (or another feed reader of your choosing). You can, incidentally, sign up to have your Google Alerts also go to your Google Reader. You can also sign up to an individual's twitter stream, a twitter search stream, your favourite news site etc.
The benefit to doing this is you go to only one site to read all the information you want to see. I go to my Google Reader and get something that looks like this:
You can see I have 579 unread items that I can review by topic; I have categorized my subscriptions into Social Media, Tourism, Vancouver, Snowboarding and the ones at the bottom of the list are uncategorized at this point. If I open any one topic I get a number of sources and I can review by source, by topic, or the whole list.
This, incidentally, is my personal reading list; I also have another Google Account for my work and have another reader account with everything I read pertaining to my employment.
I know that may look overwhelming, but I usually access my reader by utilizing the web browsing on my mobile phone and read whenever I'm waiting for something or have a few moments to spare.
Clear as mud?
Hopefully I haven't overwhelmed you. This is meant to highlight just a few very inexpensive ways you can get involved no matter what your business or your budget.
If you have any super simple solutions you think I've missed, please do leave them in the comments. Alternatively, if you are looking for help to develop a plan further, you can contact me at michelle [at] imseekingbalance [dot] com.